Manson Tells Why He Has A Swastika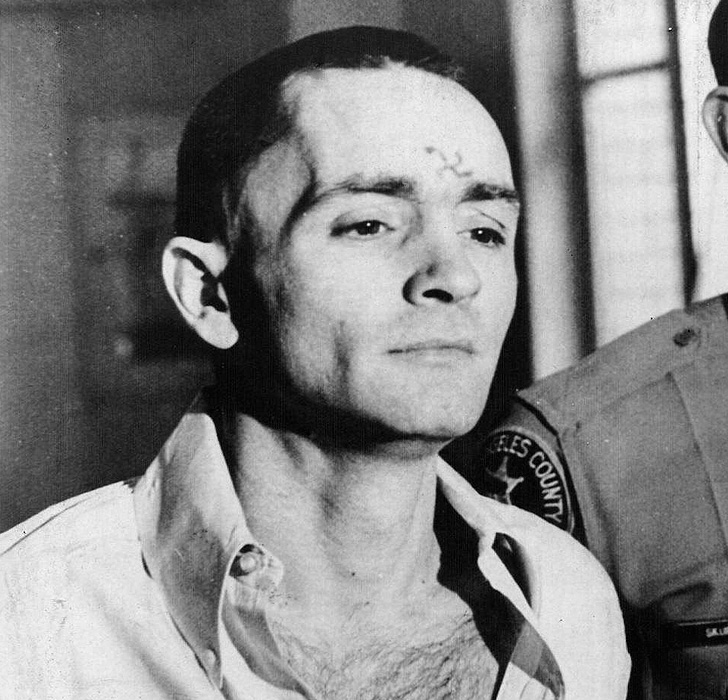 MANSON CHANGES APPEARANCE AGAIN — Charles Manson heads for court in Los Angeles yesterday with his appearance changed again. Last week he showed up with his long hair closely trimmed. Today the beard was gone, but on his forehead he'd scratched a swastika. The jury which convicted Manson and three girl co-defendants of murder in the deaths of actress Sharon Tate and six others currently is hearing testimony in the penalty phase of the trial.
LOS ANGELES, Mar. 12 — Cult chieftain Charles Manson, who Thursday appeared clean shaven and with his hair closely cropped, explained to newsmen why he had carved a bloody swastika on his forehead.
"You have two choices, accept me as your leader or your whole social thought will go into anarchy," he said in a statement released through his followers maintaining vigil on the corner outside the Los Angeles Hall of Justice where he is on trial.
"I am what you are making me. I was good and now I know none. For you as a group of people have shown me no mercy. The mark on my head simulates the dead head black stamp of rejection, anti-church, falling cross, devil sign, death, terror, fear.
"I wanted to be a good guy but you didn't let me. I make a motion that Nixon give me this country…It is either a state of total anarchy or total control. A brand new Young America with no weakness. A brand new world with love and peace.
"When I die I don't die, the world dies. I have always lived and I will always live…Much is coming. Much needs to be done."
Manson's swastika apparently is daily re-etched. His girl followers, however, still wear an X on their foreheads, the first sign Manson sported shortly after his trial began nine months ago.
By MARY NEISWENDER