Trial Delayed as Manson Appears in Another Court
Tuesday, October 13th, 1970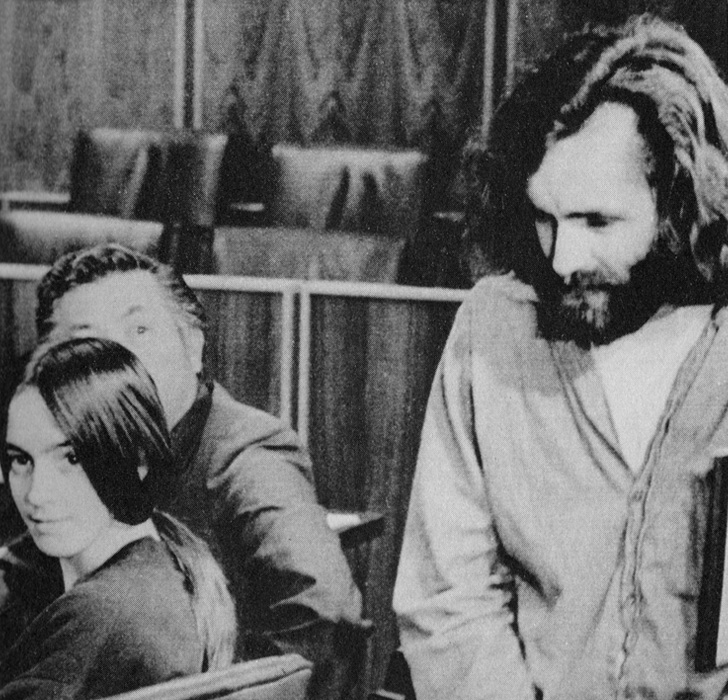 Charles Manson glances at Susan Atkins, a member of his hippie-style "family," as the pair arrived in court at Santa Monica, Calif., Tuesday to plead on charges of murdering a Malibu musician, Gary Hinman. When his name was called, Manson stood, folded his arms, and turned his back on the judge. Miss Atkins did likewise. The court then entered pleas of innocent. Both are now on trial in Los Angeles for killings that included actress Sharon Tate
SANTA MONICA, Calif., Oct. 13 – The Tate-LaBianca murder trial was delayed today to allow two of the four defendants to appear in another court on another murder charge.
Hippie leader Charles Manson and his girl disciple, Susan Atkins, appeared in Santa Monica Superior Court to enter a plea and have a trial date set on charges they participated in the murder to Topanga Canyon musician Gary Hinman two weeks before the Tate murders.
But both the long-haired cultist and his follower turned their backs on Judge Lawrence J. Rittenband and refused to speak. Not guilty pleas were entered for them by the judge, who set Feb. 15, 1971, as the date for their trial to begin.
Dressed in brown corduroy pants and a jail-issued blue denim shirt, Manson walked into the courtroom, to face a battery of newspaper and television cameras. He smiled at several familiar faces in the jammed courtroom and then turned his back on the cameramen, his arms folded across his chest.
It was in this same position that he stood, his back this time to the judge, when the charges were read against him. Miss Atkins aped his every move.
Asked by Judge Rittenband to face the court, Manson refused silently. Finally, the judge asked bailiffs to see "that the defendant faces the bench." Manson turned when a bailiff put an arm on his shoulder.
A request by Manson's attorney, Irving Kanarek, for a continuance in order to file a demurer challenging the grand jury system, was denied by the judge, along with a request by both Kanarek and Miss Atkins' attorney, Daye Shinn, to be allowed to confer with their clients in the attorneys' room instead of through a heavy screen.
By MARY NEISWENDER