Expected Death Penalty for Manson, Girls, Officer Says
Tuesday, March 30th, 1971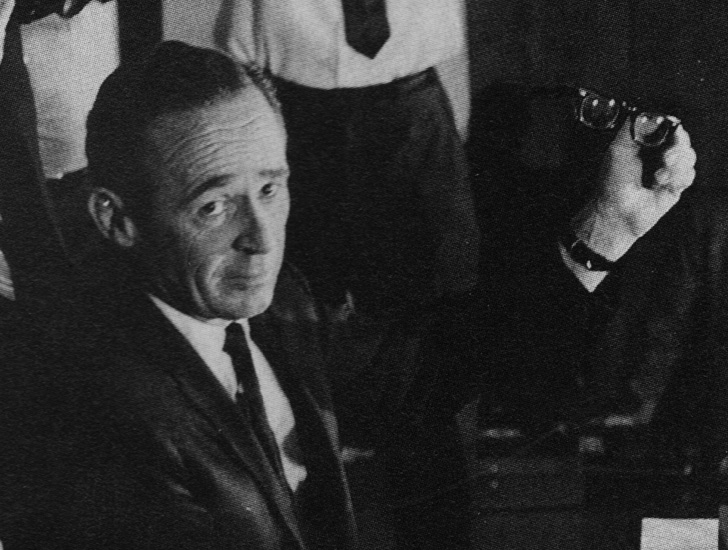 LAPD EXPECTED DEATH PENALTY – Lt. Robert Helder, who headed the investigation of the Tate murders, today said he fully expected death sentences for Charles Manson and the girls. Pictured here at an October 23, 1969 press conference, Helder holds up a possible clue, a pair of glasses found by LAPD at the Tate residence.
LOS ANGELES, Mar. 30 — The police detective who headed the investigation in the Tate-LaBianca killings said today he fully expected the death sentence decree for Charles Manson and three women co-defendants.
"They had all the evidence. It was all there. It was just what we expected," said Lt. Robert Helder.
It was a team headed by Helder that spent weeks in the fall of 1969 painstakingly investigating the bizarre murders at the homes of actress Sharon Tate and of Leno LaBianca. The investigation resulted in the arrest of Manson and several members of his hippie-style cult known as "The Family."
Prosecutor Vincent Bugliosi said he wasn't surprised at the verdict, noting that the jury had been hearing evidence in the case for seven months. "I feel they felt a week or two ago that the verdict was going to be this," he said.
Bugliosi noted that the constitutionality of the death penalty is now pending before the U.S. Supreme Court.
If it is upheld, the prosecutor said, he would be "not surprised" to see Manson and the girls executed.
He said it will up to the district attorney to determine whether there will be prosecution of Manson and the others in the murder of musician Gary Hinman.
He said that the expected lengthy appeals from today's verdict to the higher courts will be handled by the state attorney general.
Bugliosi said that the 12 jurors were "conscientious people chosen from the community" and said he felt they reflected the viewpoint of the public at large.
He said that most people were "shocked and outraged at the savagery of these murders." Describing the nighttime slayings as "an orgy of murder."
Asked how he felt about Manson's death threat to the jurors, prosecutors and others in the case, Bugliosi replied "I cannot comment"
The prosecutor said he had "enormous" unlimited confidence and faith with the jury system."