Beausoleil Found Guilty Of Murder
LOS ANGELES, Apr. 19 – Robert K. Beausoleil, a former roommate of Charles Manson, was found guilty of first-degree murder Saturday by a Superior Court jury in the stabbing of Malibu musician Gary Hinman.
Judge William Keene ordered jurors to return Monday morning for the penalty phase of the trial. Beausoleil, who appeared shocked at the verdict, faces death in the gas chamber or life imprisonment.
Beausoleil, 22, whose first trial on the charge resulted in a hung jury, testified it was Manson who killed Hinman last July 27 at Hinman's Topanga Canyon home.
The baby-faced defendant said Manson, leader of a nomadic hippie-style clan, sought $20,000 from Hinman, money the musician had inherited.
Mary Brunner, 26, a member of Manson's "family," told the jury Beausoleil stabbed Hinman. The girl, granted immunity from prosecution as a state witness, said Manson, 35, left the Hinman home 24 hours before Beausoleil.
The prosecution said Beausoleil stabbed Hinman twice in the chest.
Another key prosecution witness was Danny DeCarlo, a mustachioed former motorcycle gang leader who testified Beausoleil told him he had killed Hinman.
Manson, one of six persons charged with murder in the bizarre slayings last August of actress Sharon Tate and six others, was indicted last Tuesday by a county grand jury on a murder charge in Hinman's death.
Two more of Manson's followers, Susan Denise Atkins, 21, and a man identified as Bruce McGregor Davis, 27, also were indicted.
Beausoleil told the jury, which began deliberations Thursday, that he went to Hinman's home with Miss Brunner and Miss Atkins. He said he was under orders from Manson to get the $20,000 from Hinman.
Later, Beausoleil said, Manson and Davis arrived at the house.
"Charles pulled a sword from behind his leg and stabbed at Hinman's midsection," Beausoleil said, "Charles slashed him on the face with the sword."
However, the prosecution maintained that Manson left while Hinman was alive, and that Beausoleil again phoned Manson for orders. Manson, it was alleged, then told Beausoleil to kill Hinman.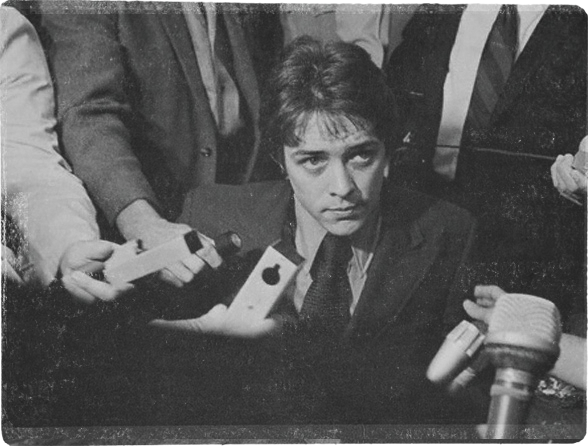 Robert Kenneth Beausoleil talks with newsmen after the jury returned a verdict against him of first-degree murder in the torture slaying of musician Gary Hinman. Beausoleil, a former member of the "Manson Family," claimed that Charles Manson sent him to Hinman's house to force the musician to turn over $20,000, but that Manson was the one that delivered the death blows.