CRIME: The Tate Set
Monday, August 25th, 1969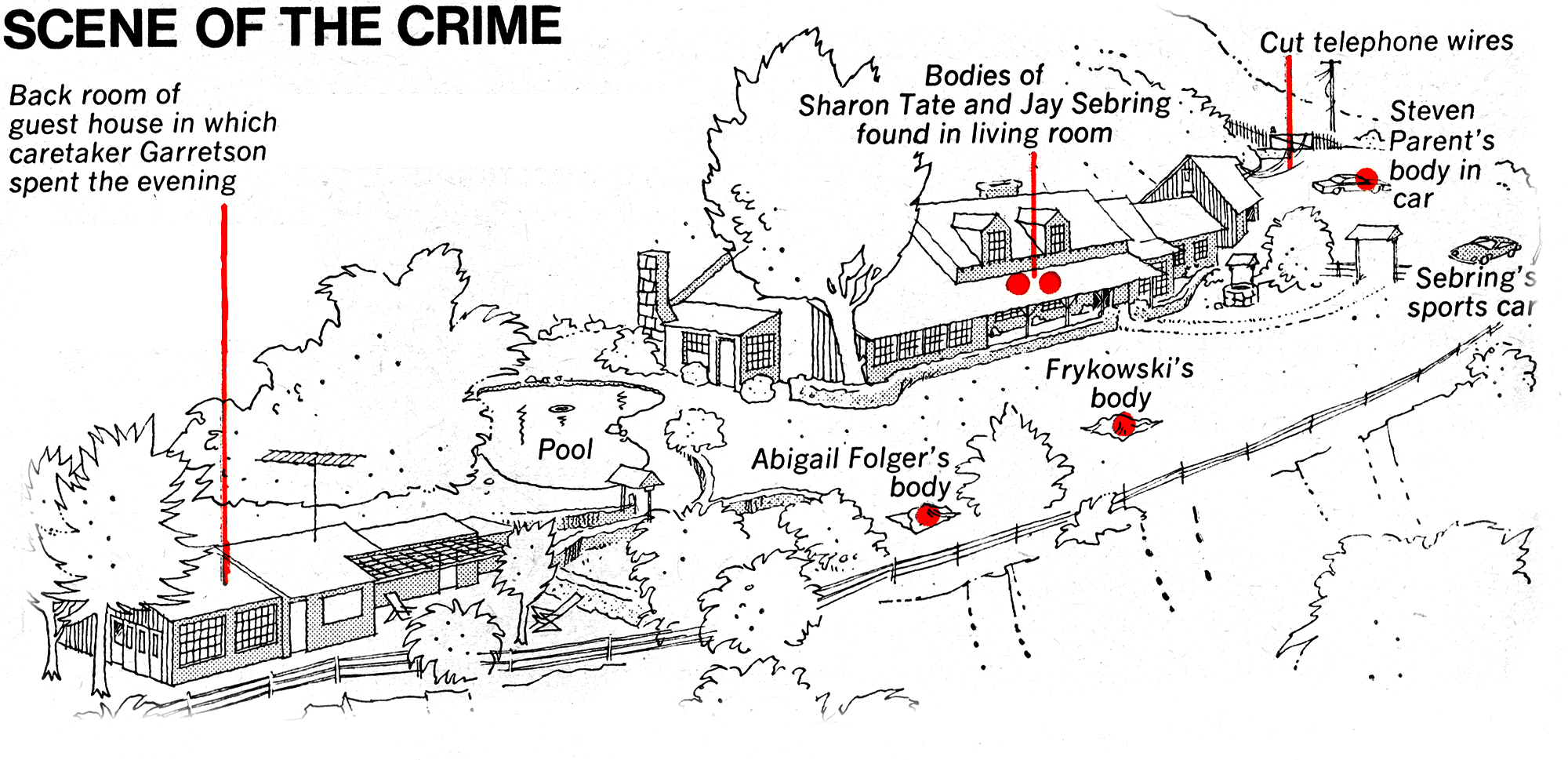 The bizarre murder of actress Sharon Tate and four others at Polish film director Roman Polanski's secluded villa in the Hollywood hills confronted the Police with a fascinating whodunit. But nearly as enchanting as the mystery was the glimpse the murders yielded into the swinging Hollywood subculture in which the cast of characters played. All week long the Hollywood gossip about the case was of drugs, mysticism and offbeat sex – and, for once, there may be more truth than fantasy in the flashy talk of the town.
Stylist: A week after the slaughter, police had no suspect in custody and few clues in the murder of Miss Tate, who was married to Polanski and eight months pregnant, and her fellow victims: Jay Sebring, 35, a celebrity hair stylist and once Miss Tate's fiance; Voyteck Frykowski, 37, another Polish filmmaker and a friend of Polanski's; Abigail Folger, 26, heiress to a West Coast coffee fortune and Frykowski's girl friend; and Steven Parent, 18, a bystander. The initial suspect, 19-year-old caretaker William Garretson, had been released for lack of evidence and the tangible clues were sparse: the handle of a broken revolver, a cache of drugs found in Sebring's sports car, a thick rope that had been used to tie Miss Tate's head to Sebring's, and bullets taken from the bodies of Sebring, Frykowski and Parent. There was no trace of the knife or knives used to slash all the victims.
Detectives complained that most of those who knew the victims were huddling silent for fear of being tainted by scandal, but at least one reportedly has given the police leads to possible fresh suspects. And in talks with members of the Tate set, NEWSWEEK'S Min S. Yee was able last week to piece together a scenario of what may have happened. The theme of the melodrama, according to these friends, was indeed drugs – and the protagonist was Voyteck Frykowski.
A reputable producer in his native Poland, Frykowski, friends said, found no real career in this country except in drugs – as a user and a dealer. For the last year he had the infatuated company of Gibby Folger, a Radcliffe educated rich girl who moved from bookselling in New York City to the less prosaic preoccupations of the movie colony. She had money, and Frykowski was welcome to it, according to friends; he in turn bought drugs – LSD, heroin, high-quality marijuana and a new chemical called MDA – and peddled them around town. Frykowski had two regular partners, both Canadians, in his drug enterprises, and he is known to have quarreled violently with them. What's more, both Canadians are known to have been in Hollywood as recently as two days before Sharon Tate's party.
Odd Taste: Frykowski, so the stories go, was connected to Sharon Tate not so much through her husband, Polanski, as through her former fiance, Jay Sebring, with whom Frykowski shared a taste for odd sexual fun and games. All three liked to trip together on pot or acid. Friends believe drugs were used by the victims on the night of the murder (though this has not been confirmed by the medical examiner), but Miss Tate presumably abstained in view of her pregnancy.
Some suspect the group was amusing itself with some sort of black-magic rites – as well as with drugs – that night, and they mention a native Jamaican hip to voodoo who had recently been brought into Frykowski's drug operation. Some such parlor rites might account for the hood found over Sebring's head and the rope binding him to Miss Tate. Indeed, one group of friends speculates that the murders resulted from a ritual mock execution that got out of hand in the glare of hallucinogens. Others are convinced that the murderers surprised their victims at play – and believe the killers were Frykowski's Canadian accomplices with whom he had quarreled and perhaps also the Jamaican. The police, who are known to be on the Canadians' trail, feel that the killers at least had their wits about them and cite the fact that the telephone wires leading to the house had been carefully cut.
Polanski himself – one of the hottest directors in Hollywood since the success of "Rosemary's Baby" – was in England at the time of the killing, working on plans for a new film. Whatever he knows has so far remained a secret between him and the police. But no one is talking about Polanski any longer as a master of the macabre. At the burial of his young wife – together with the unborn child who would have been his first son – the helpless director broke down and wept on his mother-in-law's shoulder, no more the master of this horrible tale than any other man would have been in his place.