Hippie Commune Ruled By 'Black Magic'
Friday, December 5th, 1969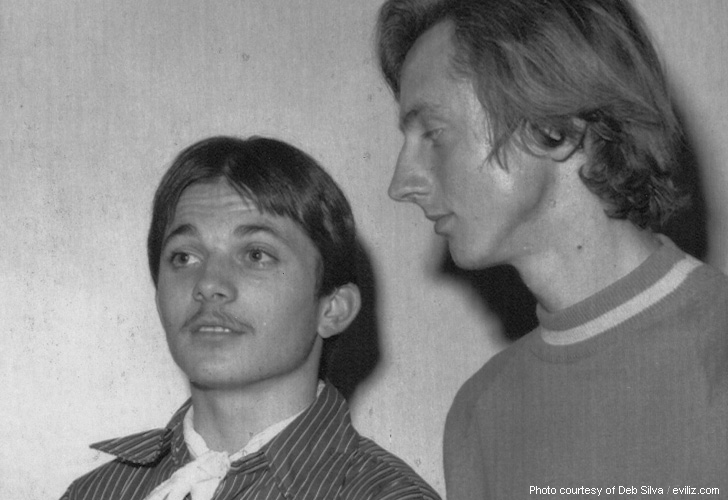 DESCRIBE LIFE WITH MANSON: Paul Watkins, 19, left, and Brooks Poston, 21, tell newsmen in Shoshone, Calif., recently of life with Charles Miller Manson, some of whose clan members are held in the slayings of actress Sharon Tate and four others. Of the hippie clan, Watkins said, "The whole thing was held together by black magic."
LOS ANGELES, Dec. 5 – "Black magic" …"He believes that he, and all human beings, are God" … "There is no crime, there is no sin" … "The women were the key to everything."
Three friends of Charles M. Manson used those words Thursday to describe him and the way they say he ruled a clan of nomadic hippie-types on a commune near Death Valley.
Prosecutors say they will seek an indictment charging Manson, 36, with conspiracy to commit murder. Several members of his clan are accused of slaying actress Sharon Tate and six others.
The three friends—miner Paul Crockett, 50; guitar player Paul Watkins, 19; and Brooks Poston, 21—gave their descriptions in an interview with the Los Angeles Times.
"The whole thing was held together by black magic," said Watkins, who has followed Manson since they met two years ago in the Haight-Ashbury district, then the hippie Haven in San Francisco.
"You don't believe it? Well, it really exists, and it is powerful," Watkins said.
"He (Manson) believes that he, and all human beings, are God and the devil at the same time. He believes all human beings are part of each other," said Poston, a Manson follower for two years.
"You see what that means," Crockett said. "It means that human life has no value. If you kill a human being, you are just killing a part of yourself. So it's all right."
But, said Crockett, by Manson's philosophy "you can't kill an animal. Not a bug, not a snake, nothing. There were snakes all over the desert. They got in the cabin and everywhere. But you could never kill one. They picked up snakes in the house and carried them outside and turned them loose."
Paul Watkins, 19 (left) and Brooks Poston, 21, are shown telling newsmen at Shoshone, Calif., of life with Charles Miller Manson, some of whose clan members are held in the slayings of actress Sharon Tate and four others. Of the hippie clan, Watkins said: "The whole thing was held together by black magic."
"That's right," Poston said. "I saw them carry a foot-long sidewinder out of the cabin one day."
"And you couldn't eat meat," said Watkins, "because you were killing an animal. It was crazy."
Manson's talent as a musician — he played the guitar—and his slow, deliberate and moody way of moving gave him a sort of hypnotic power over women, the three men said.
"This sort of power takes a long time to work an effect," Crockett said. "Motions are tied to emotions. Certain motions create certain responses if you know how to use them."
"The women around the place were always his property," Watkins said Poston added: "You Were always welcome to share them, but then you became his property too."
"He needed to have some men around. There was a limit to what any man can do. But, you see, the women held power over the other men," Watkins said.
"That way," Crockett said, "the women were the key to everything."
When the commune needed money, Crockett said, Manson would send the women out to panhandle – "they could beg more in two hours than you and I could earn working in a week."
There was no prostitution, Watkins said. "They were so good at panhandling, they didn't have to hustle."
Watkins and Poston said it was Crockett's warnings that awakened them to the power Manson held over them. Both left the clan, Watkins in May, Poston in mid-October.
Poston said the words to one Manson song went:
"There is no good, there is no bad.
"There is no crime, there is no sin."