Star Witness Says Manson 'Should Beg Forgiveness'
Thursday, August 20th, 1970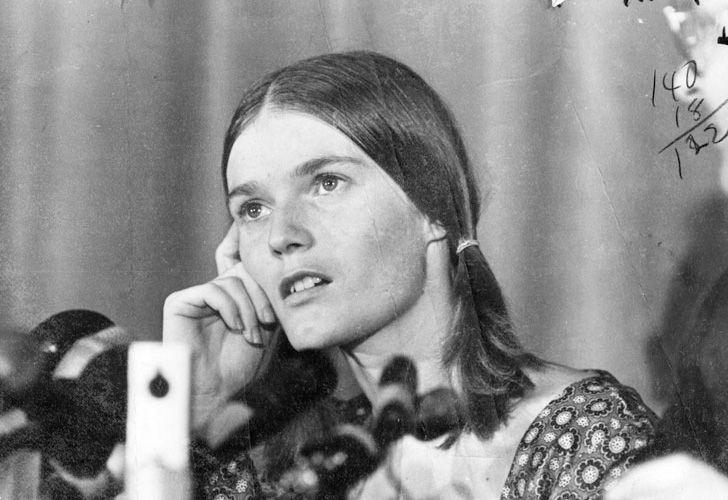 LOS ANGELES, Aug. 20 – Linda Kasabian, the prosecution's star witness in the Charles Manson murder trial, said yesterday she would like to see the hippie chief and his three codefendants "just fall down on their knees and beg forgiveness."
The 21-year-old woman, who testified for 18 days against Manson and the others, said she didn't "think" the defendants "realize what they've done."
The 35-year-old cult leader and his three female followers are accused of the murders a year ago of actress Sharon Tate and six others. Mrs. Kasabian also was charged with the murders, but was freed after being granted immunity from prosecution because she turned state's evidence.
The petite, soft-spoken blonde met with more than 60 newsmen in the auditorium at downtown police headquarters following the conclusion of her testimony.
Her half-hour news conference was held in the same place where nine months earlier Chief of Police Edward M. Davis announced she was among the suspects in the Tate-LaBianca murders.
The young woman's attorneys, Gary Fleischman and Ronald Goldman, accompanied her to the news conference and laid down the "ground rules" for questions.
She was not allowed to answer any questions about the testimony she gave at the murder trial, in keeping with a previous court-ordered gag rule.
She said she had no plans to join her 26-year old husband Robert immediately, noting "we've never been apart."
She said her immediate plans were to "go into the wilderness with my children and get closer to nature, get closer to God."
Mrs. Kasabian's son and daughter — Tanya 2 and Angel 5 months — presently are with her mother in New Hampshire.
Mrs. Kasabian said she did not want to discontinue being a "hippie," which she defined as "a person who is down to the earth and wants to get back to the land."
However, she said she did not plan to continue drug use because her sole ambition now is to "be one with God."
"…That's my thing, I don't have to take drugs (to do that)," Mrs. Kasabian said softly.
Mrs. Kasabian would not come out and advise young people not to use drugs.
"It's up to the individuals to try for themselves," she explained.
The young woman said after she goes to the "wilderness" she plans to reenter
the "establishment world" in an attempt to "help people."
She said she ultimately hoped to work with children.
Newsmen asked Mrs. Kasabian if she believed she "deserved to be free."
"I don't think the legal law of immunity is right…but I think I can help people," she replied.
She said she felt she could live, a normal life, "but within my heart I could never forget what happened."